Well I hope this el jay cut works, but anywho ladies. I've been going through some stresses lately, and apparently that equals a complete change, ie: dying my hair and painting my room. My room will be as of right now sea foam green, but it may change when I go to get the paint tomorrow. Anywho I'm thinking of red for my hair, or maybe vise versa my hair and room? Just kidding! Anyway, I've have very dark brown hair, that has been dyed twice, and I'm almost positive the black is all out because this was over a year oago and I've had three cuts since, so. I want to know if the red will show up, and if I do a nice auburn, will it just be black with red or will it be a nice red, or should I do a bright red to make it show up on my dark hair? I will be getting the dye tomorrow and probably dying it on sunday, so it gives me some time. To give you an idea of what i'm going for, I was thinking 110 Natural Light Auburn by Clairol Nice 'n Easy, or 112A Natural Dark Reddish Brown if any of you are familar with that, but I will be checking out a bunch of brands and colors so any advice is sooooo welcome.
since text only suckssss
this is my most recent me!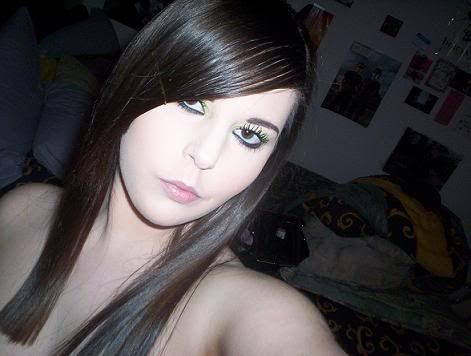 any help would be lovely!!
If anyone has used a nice box dye for a natural dark red that might look nice on me I would love to know what you used and what it was called!!!
♥